Rainwater tanks - are they 'a nice to have' or a 'must have'?
Posted by Susan Read Landscapes on 11 July 2017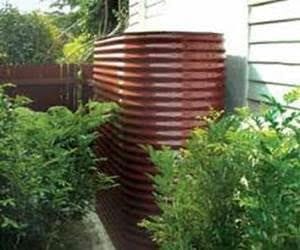 Okay, so rainwater tanks may not be the most stunning or architecturally appealing piece of equipment in a landscape design.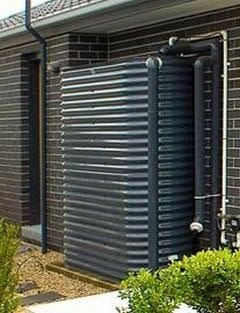 But, have you stopped to consider having one installed on your property?
Most people think of rainwater tanks on big rural properties, out in the country where they may not have access to mains water like urban areas.
Aside from homes in rural areas, those living in the city can also benefit greatly from these water storage solutions. In this post, I'd like to suggest to you that rainwater tanks are really a MUST HAVE water storage solution for urban areas and not just for rural properties.
First, what is a rainwater tank (many people don't quite know what they are or what they do)?
A rainwater tank is a water tank used to collect and store rain water runoff, typically from rooftops via rain gutters.
Rainwater tanks capture rainwater from your roof and store it for later use. You can then use the stored water around your home and garden.
A properly installed and working rainwater tank can save up to 40% of your drinking water supply.
This can add up to about $218 a year - or 96,000 litres!
A typical rainwater tank in greater Sydney will cost at least $2,000-$3,500 to buy and install. This will depend on the size of the tank and complexity of the installation.
As well as buying the tank, you may have to hire a plumber and an electrician.
What do you need to consider?
An ideal rainwater tank installation for an average Sydney home would:
store at least 2,500 litres of rainwater
be connected to over 75% of the available roof area
have an energy efficient pump and distribution system
supply rainwater to at least one toilet and the clothes washing machine
provide a fail-safe water supply that uses a mains switching device connected to the drinking water supply.
Right, now that we know what a rainwater tank is and what it does, why is this a MUST HAVE for my home in the burbs?
Here are 5 reasons why you should have rainwater tank.
No. 1 Save money on your water bill
Water consumption at home can be costly, especially if you have a big family. Constant flushing of toilets, for instance, amounts to as much as 30 per cent of your utility bill. But that's not all. Take note how often you and members of your household use water for showering, general cleaning and household chores. Incorporating the use of rainwater in your daily life can greatly help reduce your water bill.
No. 2 Blended designs
Rainwater tanks do not have to be an eyesore - in fact, gone are the days when barrels and bulky tanks were your only options. Now, you can choose from thousands of different sizes and types to fit your space, including slim line designs that come in a range of colours to match and fit in with your landscape. You can also fit your tanks to form part of a landscape feature. If you have limited space, an underground storage solution might be perfect for your needs.
No. 3 Less restrictions
Climate change and other environment-related changes can mean water shortage, leading to government-imposed restrictions remember when we were restricted on how and when we could use water? This can be a problem, especially for households that need to consume more than average users. Collecting rainwater though, can help solve this problem. Not only will you have more than enough for daily hygiene use, you'll also have some for extras like filling a small-sized pool.
No. 4 Save water on everyday use
Have you ever looked at all the appliances in your home that need water in order to operate? From the washing machine to the dishwasher, it's no wonder your utility bills can skyrocket. With these appliances, you're not only paying for the energy consumption, you also need to use water every time you use them. By using rainwater that you collected for washing the car and windows, doing your laundry, watering the plants in your garden, cleaning the house and more, you'll end up saving plenty of money over time.
No. 5 It's good for the environment
We can all play our part in doing some good for our environment. Clean water is one of our most precious resources. To help reduce the impact on our environment, conserving water is a must. You can do this by checking for leaks, replacing older appliances like washing machines and dishwashers, planting climate-appropriate flora, and of course, installing a water tank for your home. By doing all these, you'll be doing your bit for the environment and it'll feel good as well!
So there you have 5 reasons why a rainwater tank should be a MUST for your home.
Susan Read Landscapes can help with your landscaping projects as well helping you decide and choose which rainwater storage solution is best for your needs.
Contact Susan Read Landscapes today for a no-obligation consultation or call on 0418 635781.
Author:Susan Read Landscapes