What's Flowering Right Now?
Posted by Susan Read Landscapes on 7 September 2017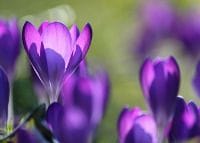 Finally, spring's come around!
Soon those cold, dark and windy days will be a distant memory.
And what's the best thing about spring? Everything is coming to life and this is your time to spruce up your garden with colour, texture and vibrancy.
In this (timely) blog, I'm going to give you some suggestions on choosing the right plants so that your garden rocks your neighbourhood!
So here are my top 3 plants to add colour and vibrancy to your gardens.
Magnolia x Soulangeana
Magnolia x soulangeana, commonly known as saucer magnolia, is a deciduous hybrid magnolia (M. denudata x M. liliiflora).
It is the most commonly grown deciduous magnolia.
It's a broad shrub or small tree that typically rises to 4-8m tall with a rounded crown.
With large showy flowers that are fragrant and in a variety of shades of white, pink and purple, it will bloom in early spring.
Also known as Saucer magnolia, it's perhaps the most popular deciduous magnolia in cultivation today.
These hybrid trees are slowish growing, so will take some years to reach their full height.
They like to live in a temperate climate, thrive in well-drained soil and prefer morning sun, but will tolerate full sun provided they are well watered. Once mature, the plants are quite hardy.
It's very useful as a feature plant, however, will need protection from wind and prefers fertile moist soil.
Camellia Japonica
Camellia japonica, known as common camellia or Japanese camellia, is one of the best known species of the genus Camellia.
Sometimes called the Rose of winter, it belongs to the Theaceae family.
The flowers are in full bloom in June and July, with many continuing to bloom until August and even September, providing excellent material for vases.
The exquisitely formed flowers are probably at their best in winter, as they can be ruined by some of the warm days of late winter and early spring.
A shallow bowl of floating camellia blooms is pretty for indoor decoration in winter; a similar outdoor effect can be achieved in a birdbath.
Many will reach heights of 5-7m if unpruned, although some are naturally more compact.
They can be used in an informal woodland shrubbery or to create effective and substantial screens in the garden.
Lower branches can be removed and a more open canopy created by thinning some of the upper branches once the plant has matured.
Old Camellia can be rejuvenated to produce a similar effect, especially those encroaching on windows or pathways.
Camellia Japonica, especially those with pale-coloured flowers, need to be grown in partial or dappled shade.
Most are best shielded from hot afternoon sun and winds during the warmer months.
Most also need to be protected from direct morning sun in winter (up till midday), which can damage the flowers by burning them through the dew which collects on the petals at night.
Some of the bright red and bright pink cultivars, however, are able to withstand this effect.
Complete shade is not the best position for Camellia japonica to produce their flowers, as they need some filtered sun during the middle of the day in December and January in order that buds may be set for the following winter's display.
They flourish best in a free-draining, slightly acidic soil (pH 5.5-6) that is rich in humus.
Acacia Baileyana
If you prefer native plants, then Acacia baileyana or Cootamundra wattle is for you.
It's a shrub or tree in the genus Acacia.
The scientific name of the species honours the botanist Frederick Manson Bailey.
It is indigenous to a small area of southern New South Wales in Australia, but it has been widely planted in other Australian states and territories.
Acacia baileyana is a small evergreen tree with domed canopy, it is fast growing and has a life span of 8 - 15 years.
It bears pollen rich, fluffy stamens of brilliant lemon yellow colour in June to August depending on latitude and exposure to cold winds.
Cootamundra Wattle prefers full sun, it will grow in part shade but will tend to be less dense.
It is tolerant to frost, 3rd line salt and drought.
This plant adds winter colour to a native garden and for the remainder of the year the foliage is great for contrast colour.
Will adapt to any soil conditions but does best in well drained soils.
You'll need to water it well during its first summer, prune after flowering to keep tidy and feed in autumn with blood and bone.
Enjoy your garden and remember, before anyone walks into your home, they see your garden first, so take the time to establish it and make sure it reflects who you are.
If you'd like some help in choosing your next plant or even if you'd like to know which plants would be best for your garden, contact Susan Read Landscapes, 0418 635781, for a no-obligation consultation.
Author:Susan Read Landscapes